Places of Interest



Costa Del Sol is the holiday sun capital of Europe, recording as many as 320 sunny days a year and 160 km of coastline that makes it the perfect destination for sun, sand and fun for visitors throughout the year. The mild climate is a real magnet for tourists and residents alike, all of whom enjoy the warm Southern Mediterranean weather, bustling cosmopolitan resorts, excellent alfresco, exquisite restaurants and dining, tens of excellent golf courses and endless blue skies.

Along the Costa Del Sol, you will find all the adventure you are looking for: water parks, horse-riding, hiking, canoeing, bungee jumping, hot air balloon flights, hang-gliding, water skiing, off-road vehicle rides and more. By land, by sea, by air: the possibilities for fun and excitement are plentiful and one is really spoilt for choice. For the lovers of sun & sea, there is an abundance of famous beaches, ranging from quiet, hidden coves to trendy stretches of sand with fashionable beach clubs, populated by celebrities and fun loving people from all over the world.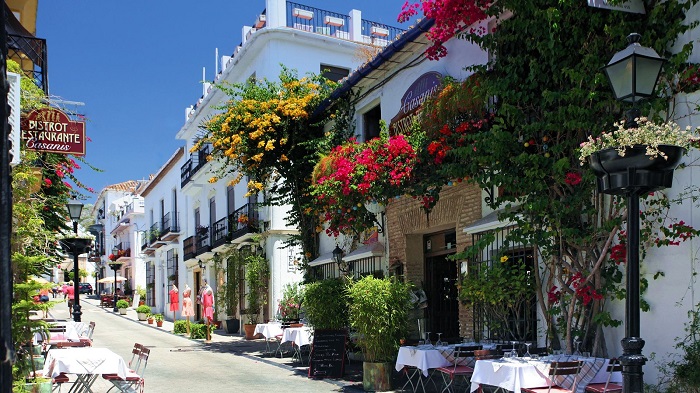 For a less strenuous day out, the villages of the Axarquia region are some of the most picturesque in all of Spain. If night-time is appealing, then you'll find a huge selection of bars and clubs around Marbella and Puerto Banus, ranging from the fun and easy-going, to the chic and sophisticated. Costa Del Golf, as the area is also widely known is the European capital of year-round golf. There are over 60 golf courses in the area, with stunning mountain and cliff-top locations, spectacular sea views and a variety of palm, pine, cork trees and other beautiful landscape surroundings.

Some of the very best European golf courses are located here, ready to meet beginners and seasoned golfers alike!The Costa de Sol can be divided into two sections, with Malaga city at its centre. The Eastern Costa del Sol is much shorter, stretching from the provincial capital as far as Nerja, where it meets the Costa Tropical of Granada province. The Western Costa de Sol is the section of coast which curves round southwards towards Gibraltar, and includes large resorts such as Torremolinos, Benalmadena and Fuengirola, plus of course, the ritzy celeb-magnet of Marbella and Puerto Banus – characteristic with a an wide international mix from all over the world.